AN GIANG IMPORT-EXPORT COMPANY
Company name: AN GIANG IMPORT-EXPORT COMPANY
Overview: Established on 23/07/1976 and equitized on 01/01/2008, An Giang Import-Export Company (Angimex) is one of the Vietnammese leading enterprises in food, agricultural material, commercial service, … with rice as the main field. Over 35 years of experience in business, Angimex was very proud of being trusted and accepted from customers of European, American, Asian market….as well as domestic customers.
With well-monitored and well-regarded quality control system, Angimex provides the highest quality standard products and professional services to satisfy customers' needs.
Angimex continuously improves to fulfill the higher customers' hopes as well as the stricter requests of markets.
Abbreviation: Angimex.
Forerunner: AN GIANG FOREIGN TRADE COMPANY.
Business lines: Producing, processing and trading rice for domestic consumption; supplying rice for export and directly exporting.
Logo Exported rice: Angimex is capable of producing 350,000 tonnes of rice per year with a system of food processing plants, located in areas of key raw materials; convenient transportation; capacity of storage is over 70,000 tons, modern milling system and shining technique; the quality of products is managed in accordance with ISO 9001:2000.
Each year, company exports from 300,000 to 350,000 tons of all rice types to many markets, such as: Singapore, Malaysia, The Philippines, Indonesia, Africa, Iran, Iraq, Cuba, Hong Kong, EU, America, …
Contact information: + Food trading department – An Giang Import Export Company.
Address: No. 01 Ngo Gia Tu, My Long, Long Xuyen, An Giang.
Tel: +84. 02963. 3841548-3844920
Fax: +84 0296. 3 843 239
E-mail: pkdlt@angimex.com.vn
Ho Chi Minh branch – An Giang Import Export Company No. 137 Tran Binh Trong, 5 District, Ho Chi Minh city.
Tel: +84. 028.39235258 – Fax: +84.028.39234286. Email: cnhcm@angimex.com.vn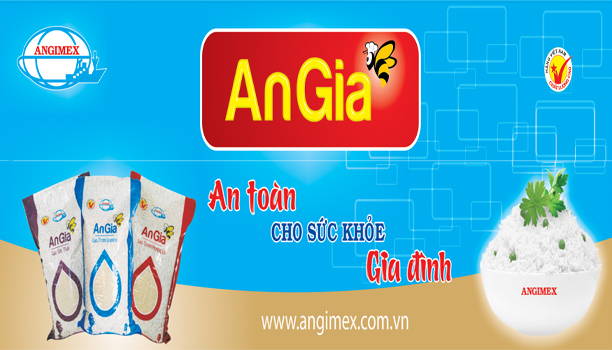 Angimex luôn nằm trong Top 10 doanh nghiệp xuất gạo lớn nhất Việt Nam. Angimex hiện có năng lực sản xuất 2.200 tấn gạo/ngày với hệ thống các nhà máy chế biến lương thực được phân bố tại các vùng nguyên liệu trọng điểm, giao thông thuận lợi, sức chứa kho trên 100.000 tấn và hệ thống sấy, xay xát, lau bóng gạo, máy tách màu hiện đại. Mỗi năm Công ty xuất khẩu từ 230.000- 300.000 tấn gạo các loại sang các thị trường như: Singapore, Malaysia, Philippines, Indonesia, Africa, Iraq, Hongkong, …
Địa chỉ : 01 Ngô Gia Tự, Long Xuyên, An Giang, Việt Nam.
Lĩnh vực hoạt động: Sản xuất, chế biến và kinh doanh gạo tiêu thụ nội địa, cung ứng xuất khẩu và xuất khẩu trực tiếp.
Điện thoại công ty: +84.296 3841548 Fax: +84.296 3843239 .
Email: rice@angimex.com.vn.
Website: www.angimex.com.vn.
Sản phẩm: Gạo Jasmine, gạo Hương Lài, gạo trắng, gạo lứt; nếp, tấm.